I am freshly back from my first ever cross-country ski experience, three days on the tracks in Kvitfjell, Norway, brilliantly organised by SkiSafari.com.
It was a short, try-out visit, but required an almost complete overhaul of my piste wardrobe. Ski clothing rental is becoming increasingly popular, thanks to our friends at ecoski.co.uk. However, cross-country, aka Nordic skiing, is still a minority interest for UK skiers. That meant no chance of hiring clothing for this ski mini-break.
Luckily, my husband and I both absolutely loved the sport and can't wait to return, so our kit will be going back in the cupboard until we can get back to the trails.
Buy pre-loved if you can
I am certain that in future it will be possible to buy pre-loved cross-country ski clothes here at WhoSki.com, but these are early days for our peer-to-peer marketplace, so on this occasion, off to the (online) shops we went.
For downhill skiing, clothing needs to both breathe and keep you warm on ski lifts. The way most of us ski makes for short periods of extreme exertion followed by longer stretches of trying to avoid getting cold hands, feet etc.
In contrast, cross-country skiing is physically much tougher, especially for a beginner with poor technique. Bear in mind that you are likely to work up a sweat pretty quickly, so you would roast in your downhill ski jacket and pants. You do, however, need to stay warm while stopped or in bad weather. Yup: we are talking layers.
Lower body
Go for two layers on your legs: a pair of thermals with over-trousers on top. The thickness of your thermal base layer will depend on the outside temperature: thick for colder winter weather, thinner for spring-like temperatures. In late spring you might even drop the thermal layer, or choose a shorter three-quarter-length / Capri style pair of tights or thermals. These will allow more air to circulate and help prevent you from over-heating.
I wore the same thin base layer leggings which I also wear under my usual downhill ski pants, and they were just fine.
If you're looking for a higher-intensity cross-country ski workout, ski tights alone – similar to running leggings – will suit. Those aiming for gentler touring on skis will also need a pair of shell-type Nordic ski pants to wear over your base layer.
I bought mine from Daehlie, a well-known Norwegian brand, and was very pleased with their performance; wind-resistant micro-fibre material at the front and stretch material at back with tailored legs, elasticated ankles and a small zip pocket. Warm and cool and comfortable.
Upper body
Think three layers, with a thin base layer next to your skin that will wick away sweat, a fleece on top of that and a lightweight over-jacket designed specifically for cross-country skiing. Odds are the fleece will come off as soon as you start working harder on an uphill stretch, so it's as well to wear a small backpack for your trip out on the trails.
Your over-jacket needs to be windproof, and you might appreciate having a micro-down jacket that weighs light and packs small in your backpack too. You can slip this on for extra warmth on a cold day if you find yourself taking a chairlift or stopping for a prolonged rest.
I found a half-zipped base layer was perfect under my jacket: the zip allowed for extra air circulation when working hard on climbs. It's the same top I use when downhill skiing, so that was one less item to buy.
Day one began with me wearing a mid-layer fleece – which came off very quickly – and I only wore it again to keep the wind off when we took a chair-lift to the start of a more distant trail. My Halti soft shell jacket also performed beautifully and looked good.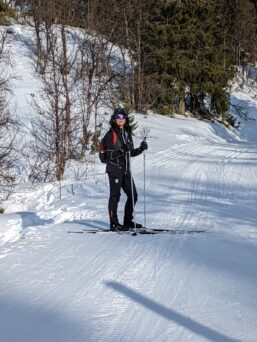 Accessories
Many cross-country skiers wear a headband/ buff to keep their ears warm yet allow heat to escape – a thick hat will be too hot for most of us. However, a thin beanie or cap with ear-flaps that fold up will also suffice.
Your downhill ski gloves are likely to be far too thick / insulated for cross-country skiing, so you might want to invest in specific cross-country touring gloves. Thicker running gloves would also do the job on warmer days. Mittens are recommended for those who suffer from cold hands. I do, but suffered no chills in my new cross-country gloves on this trip (bright spring sunshine, temperatures hovering around zero).
Regarding socks, alpine ski socks are fine although of course you don't really need the padding or length. My husband was happy in good quality woollen socks. Cross-country ski boots are light yet warm and windproof – and so easy to walk in compared with their alpine equivalents. Heavenly.
As for all skiing, good quality sunglasses are essential (not goggles – too hot for cross-country) as snow glare can cause optical damage.
Make sure you carry a water bottle – cross-country skiing is energetic work. And the little Nordic ski straps provided by our hire shop were genius for holding together the skis when carrying them (which is a joy – they are so light).
Get in Touch
If you're thinking about trying out cross-country skiing, do drop us a message on social media : @WeWhoSki on Twitter and Instagram. I'd be happy to share tips from our experience.
Nicola