So, COP27. Twelve months since COP26, when nations adopted the Glasgow Climate Pact, aiming to turn the 2020s into a decade of climate action and support.
Members of the Re-Action Collective are working to do exactly that within the active outdoor industry, based on our manifesto of principles supporting a greener future for our planet.
WhoSki.com is an active member of the Re-Action group. You can read the manifesto below.
As COP 26 President Alok Sharma says: "It is critical that we do everything within our means to keep 1.5C in reach, as we promised in the Glasgow Climate Pact."
Every action that we as an industry and as individuals can take is another step towards a more sustainable future.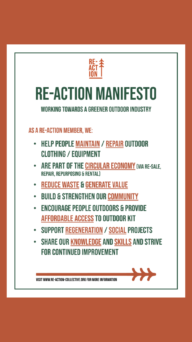 Re-Action says:
👉 We cannot continue to consume products in the way we are doing today.
🌱 Our manifesto represents system change. A change towards better maintenance of our kit, a change towards repair, reuse, rental, repurpose and a desire to find other circular solutions that will keep us playing in the outdoors.
🌿 Join us!
👉 As an individual, pledge to buy once, and buy well. Maintain and repair your gear, donate or resell it responsibly once you have finished with it. Support a Re-Action member.
👉 As a business, open conversations with your suppliers, introduce a second-hand rail, find a way to provide repair services to your customers, offer rental, identify and reduce waste