Ski resort workers wear technical, branded ski clothing through the season – but what happens to it when the snow melts? This year, some of those ski clothes have been repaired, refreshed, refurbished and will be back in active usage – thanks to a zero carbon footprint collaboration between WhoSki.com and our Alpine eco-partner One Tree at a Time.
All logos have been obscured or removed, with the ski jackets, fleeces and tops – all little-used and good as new – washed and refurbished before making their way back to the UK from the Alps this summer with ZERO carbon footprint.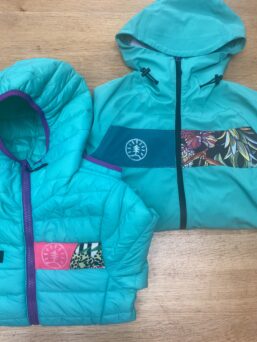 Aren't they gorgeous? Bright, stylish, rescued and repaired. And now on sale at WhoSki.com.
a secondhand success story
A secondhand success story. But just a few months ago, they were end of season cast-offs from seasonal ski resort workers in the Alps.
You've probably never thought about what happens to the branded ski clothing used by saisonnaire staff when the snow melts. Barely used but no longer required, most corporate ski jackets, fleeces and mid-layers are probably headed for landfill or incineration.
It's a story that our eco-partner One Tree at a Time is working tirelessly to re-tell. One Tree is a grassroots organisation based in the hamlet of Bozel in the French Alps, nestled between Courchevel and La Plagne. With their help, we are extending the life of these valuable textiles by enabling re-sale of their pre-loved and 100%-perfect ski clothing via our UK marketplace.
Like WhoSki.com, One Tree at a Time is among the sustainable outdoor activity organisations which belong to the Re-Action Collective, an international group of second handers, renters, repairers and individuals sharing ideas and resources to support and promote the messages of re-sale, re-purpose and re-use.
Here's the story of how our range of One Tree at a Time refurbished eco ski wear made its way from the Alps to the WhoSki.com marketplace, where you can buy it now…
January 2023
In the Alps, One Tree starts sharing photos of the ex-ski company wear that is being donated for re-use. Good as new or unused items like ski jackets, fleeces, salopettes and woolly hats that are surplus to requirements and will never be used again.
February 2023
WhoSki.com co-founder Sally starts to wonder whether there is a sustainable way to extend the market for One Tree's pre-loved and refurbished ski wear range to the UK. Selling it on via the WhoSki.com marketplace would help promote the re-use message, highlight the issue of winter sports sustainability and make top-quality ski clothing more affordable and accessible to a wider audience in the UK.
March 2023
Workers at One Tree are busy repairing and refreshing ski wear ready for re-sale. This entails removing all branding and logos, replacing travel company slogans with flashes of reclaimed fabric, making sure zips are in working order and that all items end up good as new.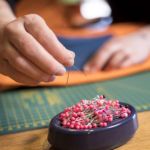 Manon, Justine and the rest of the talented One Tree at a Time repair team work at their sewing machines from home. A cottage industry of passionate, creative people working to provide circularity solutions. Their motivation? To keep textiles in active usage as long as possible.
The results are stunning: high quality, good as new ski and winter wear ready for re-use.
April 2023
Sally calls Gavin: "Any chance we can bring some of your ski gear to the UK? But we need to do it in as low-carbon a way as possible." WhoSki.com and One Tree start working out how to transport the clothing back to the UK without generating emissions.
June 2023
Bingo! One of Gavin's repairers will be driving back to the UK next month and has space in her car to bring over a batch of refurbished ski wear. It's a journey that she will be taking anyway, so zero carbon footprint for our clothes.
July 2023
Justine arrives in Warrington with a couple of boxes of One Tree ski clothing. WhoSki.com co-founder Nicola's sister lives nearby and is visiting the area anyway so agrees to collect the boxes and stash them at her home. So far: no extra miles.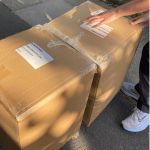 August 2023
Arrival day! Nicola's sister travels south for a family occasion, bringing with her the two boxes brimming with One Tree's brightly coloured, expertly refurbished ski wear. It's fabulous: unique, sustainable, perfect.
Next step: upload the pre-loved clothing – base layer fleeces, mid-layer puffers and ski jackets – to WhoSki.com ready for re-sale.
September 2023
Sustainable One Tree at a Time refurbished ski wear goes on sale at WhoSki.com. By buying one of these unique items of clothing, you are keeping an unrecyclable item in active usage, out of landfill and reducing its and your own carbon footprint. Ski wear from the Alps to the UK with zero carbon footprint: a circular economy success story.
If you live anywhere near SW London, visit the WhoSki.com stall in Wimbledon on Saturday September 16. We have a presence at the open-air Love Wimbledon Sustainable Market outside the Odeon in central SW19 – so you can get hands on with the refurbished clothing we are selling through our collaboration with One Tree. Please pop by for a chat and to find out more.
Are you a travel or sports business that would like to see end of season branded items refurbished and put to good use? Get in touch – we would love to help you normalise re-use for discarded winter sports wear. It's good for sustainability and the environment, good for consumers, good for the industry and great for your corporate profile.
Check out the One Tree items for sale at WhoSki.com here.